56 Years of Stories on Stage
Theatre has been performed on the site of Neptune Theatre since 1915. Originally known as the Strand Theatre and designed by Nova Scotia's first professional architect, Andrew Cobb, the Strand was reputed to be the first vaudeville house constructed specifically as a theatre.
After a serious fire in 1926, the theatre was extensively redecorated. Two years later it underwent further renovation and emerged on July 9, 1928 as the Garrick Repertory Theatre. Summer vaudeville alternated with winter repertory until the stock market crash of 1929 caused the theatre to close its doors. It reopened again a year later as a movie cinema which is what it remained for the next 33 years.
In the late 1950's, Bob Strand, a man of enormous energy, had a desire to see Halifax grow culturally. After unsuccessfully proposing an idea to see Halifax established as a duty free port, he suggested that Halifax should become the Stratford of the east with its own repertory theatre. Around the same time, in 1959, the concept of Neptune Theatre was proposed by Peter Dwyer, then executive director of the Canada Council for the Arts. He came to Halifax to adjudicate the Dominion Drama Festival, and was very impressed with the local enthusiasm for theatre. He also had a government mandate to encourage the growth of regional theatres through subsidies.
He contacted Leon Major, who was then assistant director of Stratford Festival and also Bob Strand's son-in-law, to begin the journey. At first, Major had major resistance. A lot of local business people and officials didn't see a need or an audience for theatre in Halifax. Fortunately, Major prevailed and eventually people like the mayor, John Lloyd; local surgeon and CBC writer Dr. Arthur Murphy, who later became the first President of the Board; and Colonel Sidney Oland (Oland Breweries) backed the project.
In 1962, Oland directed George Hawkins, then the local manager of Canada Permanent, to purchase the old Odeon for $100,000. Colonel Oland funded the purchase and later the Olands gave the building to Neptune. With this and another $60,000 raised by the Neptune Theatre Foundation for renovations, Neptune Theatre was born.
On July 1st 1963, Neptune celebrated its first opening night with a production of Major Barbara. Neptune was a hit and began a repertory theatre that presented plays year round. It was the only Canadian theatre at the time to operate 52 weeks of the year.
The theatre was also successful enough from the beginning to be able to tour around the Maritimes. In fact, although the details aren't perfect, many theatre people say that Neptune was the first regular Canadian theatre company to tour nationally. For example, in 1967, as part of the Centennial Year celebrations, Neptune launched a national tour that reached Saskatchewan. National touring continued in 1971 and 1972 when Ottawa's National Arts Centre was included in a Neptune tour. In 1984, John Gray's Don Messer's Jubilee was toured across Canada.
However by 1967 the theatre was starting to lose revenue; ticket sales were below 50% and a deficit was accumulating, all of which forced the theatre to visit then-Premier of Nova Scotia, Robert Stanfield.
Fortunately Stanfield agreed to have the province cover the deficit but with a few conditions, mostly about how Neptune was managed. Forced to develop a strategic plan, the management at Neptune adopted a very important strategy: the sale of theatre subscriptions, a strategy that remains important to this very day.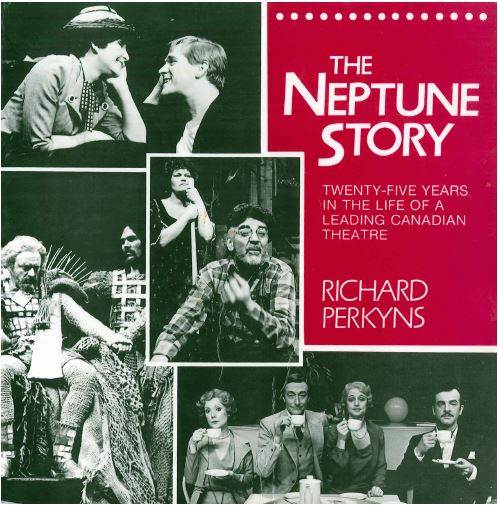 For the next 20 years the theatre continued to grow in various areas and further solidified its standing in the community. In 1988, Neptune celebrated its 25th anniversary. As part of the celebrations, The Neptune Story by Richard Perkyns was published to chronicle the first twenty five years of Neptune's history.
But by the late 1980's the physical structure of Neptune had badly deteriorated. It was apparent that the theatre would have to be substantially upgraded and expanded. Thus the New Neptune Project commenced.
The New Neptune Project
The movement to build a new Neptune started in 1989 with an official proposal released in 1993. It outlined plans to take the old 19,000 square foot building and retain the main auditorium with its original Andrew Cobb design, but demolish several of the buildings around it. A 57,000 square foot facility would be created that added a new Studio Theatre, several rehearsal spaces, a Theatre School, increased office space and additional improved facilities for both patrons and staff, including adequate washrooms.
The management team, led by General Manager Bruce Klinger and Artistic Director Linda Moore along with the board of directors, determined that the cost of the project would be substantial. All levels of government supported the projected and a volunteer-based capital campaign over one third of the funds needed from over 500 donors. The largest donation came from Margaret and David Fountain, for whom Fountain Hall is named.
Although a huge undertaking which occurred right in the heart of Halifax, theatre operations never stopped during the renovations. Offices were moved to locations around town and the Rebecca Cohn became Neptune's temporary stage. In classic showbiz style, the show went on.
In September 1997, the new complex opened appropriately with a restaging of Major Barbara. The New Neptune was a hit and well-received by theatre goers and the community at large.
Completion of the New Neptune construction project represented a major milestone in the history of Neptune Theatre. It also consumed an enormous amount of energy, which diminished the operational and artistic vitality of the organization. Audiences declined, cash flow eroded and after a disappointing inaugural summer season in 1998, once again a deficit was accumulated and a substantial capital debt remained from the construction project.
When new senior management was hired in 1999 (Doreen Malone as General Manager) and 2000 (Ron Ulrich as Artistic Director), the focus of their leadership was to return the organization to financial stability and reestablish the audience base. Most of the major efforts and activities undertaken by board and staff between 1999 and present focused on these two objectives. In June 2007, the final stage of the New Neptune Project was completed with the last mortgage payment.
Neptune Theatre Today
Today Neptune Theatre is Atlantic Canada's largest professional regional theatre. The season runs from mid September until late May and often well into July, with productions like CATS and Beauty and The Beast.
Each year, the playbill includes a broad range of theatrical experiences, from musicals to world and Canadian premieres, to dramas and popular comedies. In Fountain Hall which seats almost 500 people, six world-class productions are staged. These include lavish musicals like West Side Story, La Cage aux Folles, comedies like The Game of Love and Chance by Marivaux and dramas like David Lindsay-Abaire's Rabbit Hole. On the second stage, the Studiobank Stage, productions such as A Beautiful View by Daniel Macivor are featured in an intimate setting.
Neptune Theatre is also home to a year-round Theatre School which runs classes, camps and workshops for youth of all ages. Neptune Theatre School also coordinates elite training programs such as the Youth Performance Company and the Young Actors Company, which give aspiring local actors ages 13-18 an opportunity to work with and learn from this region's top artistic talent.
Neptune has a touring company, the Young Neptune Company Tour, which has traveled to schools across Nova Scotia since 1979. The tour presents topical shows to youth, and for many it is their first experience of live theatre. Close to 400,000 students have seen one of these performances over the years.
---
50th Anniversary Film
NEPTUNE 50: A MARRIAGE is a short commemorative documentary which describes the long-term relationship between the city of Halifax and its most important live theatre. Featuring interviews with stars of the Atlantic theatre scene, politicians, the business community, staff and audience members, the moving mini-doc unfolds in a vibrant,quick-cutting style that illuminates an enduring partnership with moments of insight and humor.
Directed by: Michael Melski
Produced by: Jennie King
Cinematographer: Thor Henrikson, Graeme Pass