Advertise with Neptune
For over 50 years, Neptune has been dazzling audiences with top notch performances right here in Halifax.
As an anchor institution for the region, Neptune is a cultural beacon, economic engine and trusted community leader. We invite you to become an advertiser to strengthen your visibility and grow your revenue. Communicating your offerings through Neptune channels is an effective way to connect with our diverse, affluent audience and position your company as a direct supporter of arts and culture. Neptune's mission is to inspire audiences with great stories and we encourage your company to join us in the process.
The typical Neptune patron is female, highly educated and an above-average income earner. Collectively, Neptune patrons spend $4.6 million annually in the local economy: $2.6 million in restaurants, $800,000 on shopping, $636,000 on travel and $461,000 on accommodations. Over $1.1 million of this spending is deemed incremental spending that would not have occurred had these customers not attended a Neptune performance.
Over 100,000 people attend Neptune Theatre performances each season.
34% are 30–49 years of age
51% are 50–69 years of age
46% have an annual household income of over $75,000
68% have university level degrees (undergraduate, master's and doctoral)
70% are female
79.5% dine out before or after a show
Source: On Site Patron Study conducted by Corporate Research Associates for Neptune Theatre.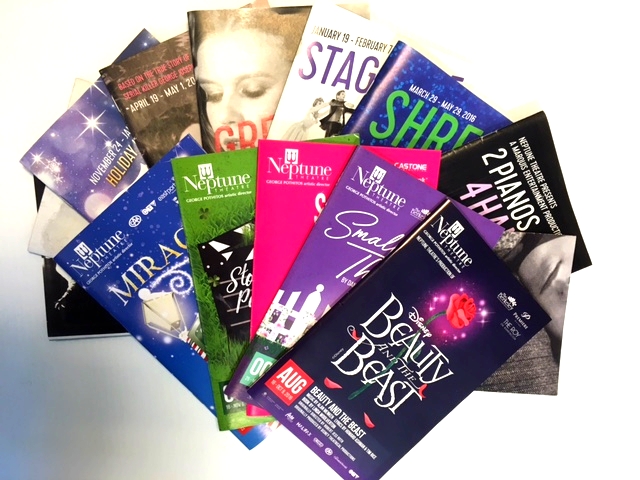 To advertise in Neptune's house program, which is distributed to all patrons who attend a show free of charge, please contact Leyna Faulkner, Marketing Manager lfaulkner@neptunetheatre.com
902-429-7300


For a range of other advertising and sponsorship opportunities available at Neptune, please contact Lisa Bugden, General Manager, lbugden@neptunetheatre.com
A mother. A daughter. Three possible Dads.
Dance along to the music of ABBA in this ultimate feel-good show, seen by over 60 million dancing fans in more than 40 countries!
Begins April 10, 2018!
A ceilidh-style celebration of a Canadian musical legend
Join Geordie Brown and celebrate the legacy of a true Canadian legend.
This Summer:
until September 3, 2017
A Christmas tradition comes alive on stage!
Make a visit to Bedford Falls for the timeless message that faith, hope and family make life truly wonderful.
Get into the Christmas spirit
November 21 -
December 31, 2017
Where ghosts from the past take a haunting toll on today
This sinister play delivers a story of shocking twists and supernatural turns sure to leave you questioning even those closest to you.
October 17 -
November 5, 2017
An unflinching look at the reality of 21st Century farming and life
This docudrama looks at life within the context of business, philosophy and biotechnology.
September 12 -
October 1, 2017
A moving interpretation of Mather Luther King Jr.'s final night
A reimagining of Dr. King's final hours as he confronts his destiny and legacy.
February 27 -
March 18, 2018